The 13 Best Electric Guitars for Beginners
Here is a list of the best electric guitars for beginners. If you are starting on an electric guitar or want something affordable, this list is for you. This list of guitars costs between $150-$499 USD and is available in most locations around the World by clicking the affiliate links below. My name is Shane and I have been playing guitar now for over 20 years and have been testing and reviewing guitars since 2006.
---
What to Buy?
For those new to playing who aren't sure what to get, I am going to give you some advice. Find out what style of guitars your heroes play for the sort of music you ideally want to learn and go down that route.
The reason this is a good move is that you'll already have an idea about how the guitar could sound with some experience and practice. If a guitar sound stands out to you more than another type of guitar tone (tone/sound is the same thing), then it makes a choice a lot easier.
If you are playing heavy metal or punk, you will want a different guitar to those who want to play Jazz or blues. Each of the fundamental differences between these guitars is outlined in this article of recommendations.
I have incorporated a list of the top best electric guitars for beginners for all music styles and tastes below. Being that music style and taste are subjective, this list is not in a particular order but listed in number form for consistency.
---
1. Squier Classic Vibe 60s Stratocaster
The Squier Classic Vibe 60s Stratocaster is an excellent guitar while also being the most expensive on this list along with the 50s Telecaster. The Classic Vibe series of guitars can suit the beginner as well as the professional player. These are easily some of the best electric guitars for beginners because they are more of a longer-term investment.
Squier hit it out of the park with the 60s Classic Vibe guitar. The Squier 60s Classic Vibe feels fantastic to play, and the quality control and build quality are far superior to that of the Affinity Series guitars (below).
Thanks to the quality guitar pickups in this instrument, it can work for almost any style of music. The guitar sounds fantastic clean, but it can also is excellent with a distortion or overdrive channel with the gain cranked up.
The Tonerider pickups in this guitar are the real deal. I have owned several other guitars over the years that were more expensive, yet they didn't sound as good as the Squier Classic Vibe 60's Stratocaster.
Recently, Squier released a Classic Vibe 70's Strat that I haven't tested yet, but want to. I have owned two of these guitars, and I will outline why I pick these as the best of the best. Once I have my hands on that guitar, I will post a review.
The Squier Classic Vibe 60s Stratocaster has five usable tones thanks to the three pickups and 5-way toggle switch. Two of those five positions are hum-canceling, which is fantastic news.
This guitar is well suited to anything from Dire Straits to Classic Rock. It could also handle higher gain as well, but if you want to rock out, I would suggest the Yamaha Pacifica or Jackson below.
Watch my full review of the Squier Classic Vibe 60s Stratocaster below.
Shop Classic Vibe Guitars Below
Sweetwater | Thomann | Sky Music Australia
---
2. Squier Classic Vibe 50s Telecaster
All the good things I mentioned in the post about their Stratocaster is mostly correct about the Squier Classic Vibe 50s Telecaster. There are a few things to know about this guitar before buying it. The 50s Telecaster is quite a bit heavier than I would like, and it's not quite as good with higher gain settings.
A vintage-style Telecaster has underwound pickups. Back in the day, the Telecaster pickups have less pickup winding, making them far less hot sounding than their modern counterparts. This guitar is perfect for country music, blues, Jazz, or even classic rock, but I wouldn't expect it to Djent based on the pickup combination.
Telecasters only have two pickups, but you get three usable tones, thanks to the 3-way toggle switch. The Telecaster is a straightforward guitar, and that is the appeal of it, and they also do sound different to a Stratocaster.
Classic vibes come in at the higher end of this list in terms of price, but they are also better than far more expensive guitars. If weight is the primary concern and you have your heart set on a Squier, get the Stratocaster. These are one of my favorite guitars of all time and was a no-brainer on this list of the best electric guitars for beginners.
Shop Classic Vibe Guitars Below
Sweetwater | Thomann | Sky Music Australia
---
3. Yamaha Pacifica 112
The Yamaha Pacifica name is famous for its quality, tone, and value. Without question, these are some of the best electric guitars for beginners out there. I know working professionals who have these as primary or backup guitars. There's a lot to love about the Yamaha Pacifica 112 guitars. Yamaha loads in high-quality pickups for getting Strat-like tones with a difference. The main difference is they use a real humbucker in the bridge position. The Yamaha Pacifica 112 pickups allow the guitar to be far more versatile than the Squier for heavier music.
The Yamaha feels just as lovely in hand as the Squier Classic Vibe guitars to play. The significant difference with the Yamaha guitar is the neck is a little fatter and has far less gloss on it. This thick neck gives the guitar a more premium feel in terms of thickness while never feeling sticky in hand. Some people like a high gloss and some don't; it comes down to personal choice and experience.
There's only one small downside to the Yamaha Pacifica 112 is the pickup selector switch can feel a little bit cheap. The feel of the selector switch isn't a deal-breaker because it does work fine. Where I live, the Yamaha is far less expensive than the Squier Classic Vibe, but some would argue that it's a better overall guitar. Except for the cheap-feeling 5-way toggle switch, the guitars are excellent instruments.
I would take this in a heartbeat over the next guitar on this list, which is the Squier Affinity Series guitars. There is a video comparison of these two guitars in the #4 position on this list.
Shop Yamaha Pacifica 112 Guitars Below
Sweetwater | Thomann | Sky Music Australia
---
4. Squier Affinity Series Telecaster or Stratocaster
Given the low price of the Squier Affinity Series guitars, they are great value. I covered the main differences between a Stratocaster in the Squier Classic Vibe section, and all of those rules apply except one. These guitars are much lighter instruments than the Classic Vibes.
There are several significant differences in quality between the Yamaha Pacifica and the Classic Vibes. The first notable difference is the weight, as mentioned, and the second is the quality of the hardware. The hardware on these guitars isn't fantastic. It's not bad considering its about half of the price of the Classic Vibes, but it isn't great.
The biggest letdown on this guitar is the tuners. They almost always feel unreliable, and the tuning stability is terrible. I recently compared the Squier Affinity Stratocaster versus the Yamaha, and I think the Yamaha killed it – quality and tone-wise.
So these are no good? No, not at all. These are very playable, and the pickups are quite nice on the Telecaster. The pickups on the Stratocaster are good, but they aren't on the same level as the previously mentioned guitars. You can hear the comparison in this video I filmed below.
Shop Squier Affinity Series Guitars Below
Sweetwater | Thomann | Sky Music Australia
---
5. Harley Benton CST-24T
Harley Benton makes many fantastic and best and affordable guitars for beginners. They aren't strictly beginners guitars either because most of them can be used as a primary instrument as well. Harley Benton is becoming a household name amongst guitarists. I have been fortunate to review a lot of them over the years, and there's almost none better than the Harley Benton CST-24T.
The Harley Benton CST-24T is another addition to the "best guitar on this list" because it's very comparable to the PRS SE Custom 24 that costs a lot more. I say "very comparable" because the Harley Benton is pretty much a clone of the PRS SE. There are some differences between the guitars, of course, but it's very, very close.
There's a lot to love about this instrument because of how versatile it is. The Harley Benton CST-24T appeals to almost any style of guitarist or music. Thanks to the ergonomic design, the CST-24T allows for easy high fret access and playability. The CST-24T is very comfortable and has excellent Roswell pickups.
The included Roswell humbucker pickups are just as good as the PRS equivalent, and they also have an additional trick up their sleeve. The advantage to these humbuckers is you can even "split" the coils thanks to a push-pull pot on the volume control. This functionality allows you also to obtain the tones similar to that of a Telecaster. The strength of these pickups is the humbucker tones, but it's great to have both options.
I have used this guitar live several times, and I love it. This Harley Benton is another guitar on the list that will be one of the most versatile and best sounding for all styles of music from Blues to Metal. Below is a video comparing the Harley Benton with my PRS Se custom 24.
This comparison video will show you how this guitar landed on the list of best electric guitars for beginners.
Shop Harley Benton Below
Thomann | Sweetwater Alternatives | Sky Music Alternatives
---
6. Artist Guitars LP59CSBL Les Paul Style
Artist Guitars are an Australian company (and now in other countries) and make very affordable and playable instruments. The pick of the bunch in terms of quality, craftsmanship, and overall tone is the LP59CSBL. Artist guitars have stepped up their manufacturing process, making this perhaps the best LP (Les Paul) style guitar on the market for the price.
This type of guitar from the Epiphone equivalent is not any better in terms of performance. That Epiphone can also cost about twice as much as the LP59SBL. The reason why this guitar is of the best guitars for beginners is that it's easily one of the most playable. It feels fantastic in hand, and you get a lot of premium upgrades with this guitar.
Some of these premium upgrades include locking tuners and Bullbucker humbucking pickups. The Bullbuckers are Artist Guitars' version of a "Burstbucker" and sound amazing. The pickups can also be split into single coils thanks to the push-pull pots installed on the guitar. I prefer the sound and feel of this over the majority of more expensive guitars, and the finish on the body and neck is spectacular.
One thing to take note of with the Artist LP59 is it comes with a vintage profile neck. This neck shape is a fatter/thicker neck and not your typical C profile. If you dig a guitar with a fat neck or if you have larger hands, you'll love this guitar. In conclusion, the build quality and feel are amazing, and this will genuinely cover any style of music from Jazz to Metal and everything in between.
Shop Artist Guitars Below
Artist Guitars (Australia) | Sweetwater Alternatives
---
7. SX VTG Series Guitars
SX VTG guitars can easily be found in most countries around the World. While SX might not be a household name, they make some great instruments for beginners or intermediate guitarists. I purchased two of these guitars not long ago to review, and their Strat and Tele guitars are fantastic value.
These are so similar to the Squier Classic Vibes in terms of tone, feel, and playability. The only thing they lack is an overly appealing headstock design. To be honest, I couldn't care less about how the headstock looks, and I quite like the SX one. With that in mind, I know it's a very divisive topic amongst gear nerds.
Many SX VTG Guitars are quite literally half of the price of the Squier Classic Vibes and about $50 more than the Affinity Series Squiers, making them great value. SX Guitars are highly underrated and are without question one of the best electric guitars for beginners.
Below is a video review of the X VTG SST62+ in Black. These are hard to find online, but if you have a local shop that sells them, they are definitely worth checking out. Otherwise, I have left a link to a reliable alternative (and pretty much the same guitar) below.
Shop Below
SX Guitars (UK) | Harley Benton Alternatives | Sweetwater Alternatives
---
8. Epiphone Guitars
Epiphone makes some fantastic value guitars that also play great. The Epiphone brand is an affordable alternative to Gibson, which is their parent company. Epiphone guitars can start at under $150, but "generally" I would avoid these. The best entry-level guitar from Epiphone is the Epiphone Les Paul Special II. Sadly, they have been discontinued.
In regards to the best alternatives (and righty), I would suggest finding an Epiphone Les Paul. The Les Paul branded guitars are suited for beginners through to working musicians. Many professionals choose to use Epiphone branded guitars due to their tone and quality.
The Epiphone Les Paul guitar can cover just about any musical styles, and they have stood the test of time as an all-time classic.
The video below is for the more expensive Epiphone Les Paul Professional. The main difference is the visual styling of this guitar, and the sound will be roughly the same.
Shop Below for Epiphone Les Pauls
Sweetwater | Thomann | Sky Music Australia
Another fantastic choice if the Epiphone Les Paul is not your style is the Epiphone Dot. The Dot is the Epiphone version of the Gibson ES-335. These are great for Jazz, Blues, and Rock.
---
9. Jackson Dinky Arch Top JS42 DKA
I better add in a couple of guitars that are suited to left-handed metal guitarists; otherwise, I will get in serious trouble.
Metal guitarists love high output pickups over vintage pickups. The reasons behind this are that modern/high output pickups handle higher gain tones a lot better.
The Jackson Dinky Arch Top is equipped with all-black hardware, a synchronized fulcrum tremolo bridge, and die-cast tuners.
For $199 US, these are pretty hard to beat for the budding metal guitarist.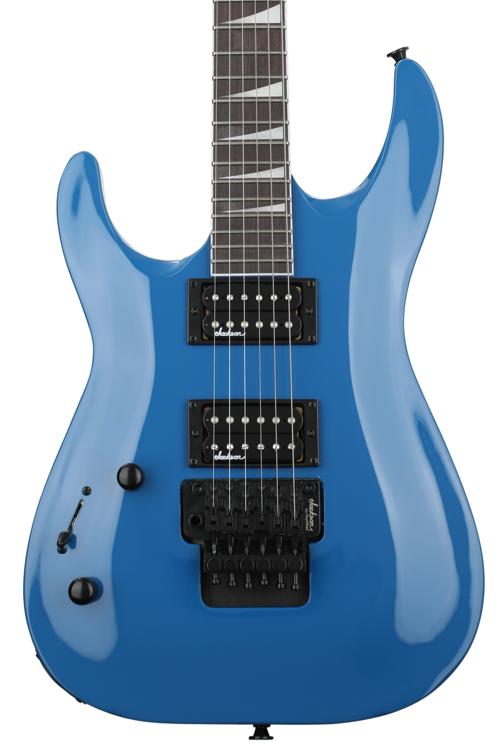 Shop Below for the Jackson Dinky
Sweetwater | Thomann | Sky Music Australia
---
10. Jackson Rhoads JS3
The Jackson Rhoads is a great value guitar that will appeal to both new and experienced guitarists. While this guitar isn't strictly a beginner's guitar, if you do buy it, you'll be able to enjoy it for many years. The problem with a lot of inexpensive that isn't on my list is they won't stand the test of time.
This Jackson Flying V-style guitar is perfect for someone who wants to rock big time. Metal guitarists will get a kick out of the fast fretboard and two great-sounding humbucker pickups. The only small downside of the Jackson Rhoads JS3 is that it's a better standing guitar than sitting. If you primarily practice sitting down, give this one a miss and go for the Jackson Dinky above.
Jackson makes some of the best guitars for their price hands down. The simplicity of the Rhoads JS3 will also appeal to a lot of players. It features a three-position toggle switch and a single volume and tone control.
The Rhoads JS3 also has a very stable tremolo system than can handle the mightiest of dive-bombs! The visual of the Jackson Rhoads will appeal to the right audience. Grab it, and rock out.
Sweetwater | Thomann | Sky Music Australia
---
11. Gretsch G2210 Streamliner
Another excellent choice for beginners through to working professionals is the Gretsch G2210 Streamliner. This guitar has the classic archtop ES-335 style design and comes complete with Gretch pickups.
These pickups are best suited for classic Rock 'n Roll, Rockabilly, Blues, and Country. Thanks to the F-Holes in the body, this guitar sustains better than a lot of solid-body instruments.
The trade-off for this sustain is that the guitar will feedback a lot easier with higher gain settings. I would not recommend this to anyone playing higher-gain music like hard rock or metal. The archtop design will give you nothing but issues with feedback.
For anyone playing the styles above of music, it will be a great choice. Another attribute of the Gretsch Streamliner is the build quality and playability. These are inexpensive guitars that are perfect for the beginner or experienced guitarists. If you dig the archtop style, I can highly recommend this.
Sweetwater | Thomann | Sky Music Australia
---
12. Ibanez Artcore
For the aspiring Jazz or classic blues musician, this one is for you! The Ibanez Artcore is one of the best value electric guitars for beginners on the planet. This electric guitar features the classic archtop design that is warm and full sounding.
Ibanez included some high-quality humbucker pickups on this guitar, which will sound great clean and also with a bit of overdrive. The Ibanez Artcore is a straightforward guitar combining a three-way toggle switch and a single volume and single tone control.
The only small downside to this instrument is that it can feedback at louder volumes or with a lot more overdrive. Due to this guitar is aimed at jazz, country, or blues guitarists, that shouldn't be too much of a problem. Don't expect to be rocking any ACDC or Metallica on this one. For the cleaner tones, this is a fantastic guitar that feels nice in the hands.
I had a chance to play an Ibanez Artcore a few years ago at a guitar show, and I was impressed by the build quality and sound quality of the instrument. This guitar is up there with the best electric guitars for beginners who want to play anything other than heavy music styles.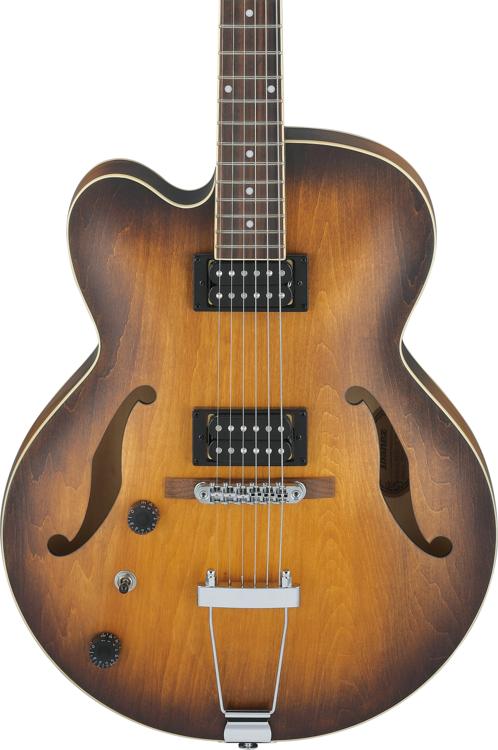 Sweetwater | Thomann | Sky Music Australia
---
13. Danelectro '59
The Danelectro '59 is an affordable quality guitar at a price that will suit most beginners. This guitar is perfect for Americana style, country, and slide guitar.
The two lipstick pickups offer a unique flavor, and the sparkle finish is also very eye-catching. The Danelectro is a great beginner's guitar that will be great for learning chords and simple lead guitar concepts.
One downside of the Danelectro '59 is that it doesn't allow for lead guitar further up the neck. The reason this isn't great is because of the neck join on the back of the guitar. Sure, you can do all the lead work you like up to about the 13th fret or so, but beyond that, it can be a bit tough.
Fans of JJ Cale or Americana-style rhythm guitar will love the sound and vibe of this instrument. It's great for that JJ Cale style or roots style rhythm guitar.
---
Beginners Guitars to Avoid
The quality of inexpensive guitars has gotten so much better in the last 10 years. Sadly, a lot of eBay and Amazon sellers still sell cheap junk. The good news is though you can find more quality beginners guitars these days than ever. Most guitar shops only stock quality instruments and I can highly suggest buying from an online guitar retailer that specializes in guitars. In all of my experience in the last 20 years playing guitar, the ones on this list will be far better than a no-name brand online.
Corner cutting on no-name brands usually gets cut on the finish, the pickups, the hardware, and the tuning reliability. These are all things that are essential for getting a great instrument. Not all name brands are junk, but why take the risk.
Please Note:
I hope this list of best electric guitars for beginners has been helpful. Any of the guitars on this list are great platforms for starting out and also for playing long term. The guitars listed in this article are not listed in terms of best to worse. Choosing the right guitar depends on the style of music you want to play and your overall style.
This list comes from years of experience playing and testing out guitars. While I haven't played every guitar in the World, I have tested all of these guitars personally since 2006-2020.
If this list has been helpful, please share it with your friends. By using the affiliate links to Thomann, Sweetwater, and Artist Guitars helps support what I do online at no extra cost for you. Many thanks.
For more guitar reviews check out my guitar reviews page.