How good is the Hotone Ampero Pedal?
Overall, the Hotone Ampero is a very good pedal for certain people but not everybody. Digital-based effects pedals are a mixed bag and usually appeal to certain people in certain situations.
Who is the Hotone Ampero for?
The Ampero is a multi-effects unit that is great for home studio users. The reason why it is great for home studio users is because of what it offers.
Integrated touch screen
Amplifier Models
Effects Pedals
Microphone Models
Virtual Microphone Placement
Delays
Reverbs
Creating your own presets
An expression pedal
Ability to use IR's (Impulse Responses)
Stereo XLR and stereo unbalanced outputs
The ability to use your own impulse responses is key for a lot of studio musicians. This allows you to download the official Celestion Speaker IR's for example and load them into the unit.  This brings the authentic speaker sound to your recordings.
The Touch Screen
The touch screen works well and this is the first unit of its kind I have seen one on. It is good to see a company innovating in space that is usually hindered by people building a lot of the same things.
The touch screen makes getting through certain menus easier but I also feel like it makes it more complicated for some tasks.  If you have big fingers like me, you might find the touch screen a bit tough to navigate when you're trying to be very precise.  The good news is if you choose to you can use the large scroll wheel instead of the touch screen.  This option is fantastic and between the wheel and the touch screen, you should be good to go.
Build Quality
I mention in my video review (above) that I really think the build quality is one of the stand-out features.  The pedal isn't made of plastic, it's made of metal.  The expression pedal feels very secure and it also has skateboard grip tape on the top for added traction.  The buttons and dials all feel like they put a lot of effort in. None of the main connectors are plastic (except the midi) so the Ampero should stand the test of time quite well.
Hotone Ampero or Mooer GE-200?
The only real main difference between these two on the surface level is the Ampero has a touch screen and the GE-200 does not.  I was assured by Hotone that this is not a copy of the Mooer GE-200 and after using it I can tell you the software is very different. The Mooer GE-200 is a lot less expensive too so if you want to check the price out visit Thomann.
Both units are great at what they do. I would put it to you like this – if the touch screen is important, then go for the Ampero. If the touch screen isn't important then go for the GE-200 or whatever you get the better deal on.  I don't really feel like one is better than the other for any other reason than the touch screen.  The software might be different, but the end result is great tones.
Good for the Live Musician?
This is where I can't convince you this is the best tool for a gig.  You could absolutely use it live direct to the PA system or straight into an amplifier.  The problem I have with all of these types of units is they are very hard to make changes to the patches on the fly. This means if you need a bit more top end or overdrive doing so means going through menus.  I feel like the menu system is a tad complicated on this unit too.  The touch functionality does help but I really would find this tough at a live show to customize my sound as I go.
Features
Compact, easy-to-use amp modeler & effects processor
New-gen CDCM & F.I.R.E. modeling system ensures high-end tonal expressiveness and realistic playing experience
Powerful, upgraded dual DSP-powered platform ensures excellent sound quality
24-bit signal processing, up to 120dB S/N ratio
4-inch 800 x 480 sharp color touch screen with instant control
18V DC high voltage power supply for huge dynamic range
USB port for firmware upgrading, loading/editing/managing effects/IRs via free Mac/PC software or for use as an USB audio interface
242 effects based on stunning XTOMP effects library
CDCM HD & F.I.R.E. modeling effects including:
– 64 amp models
– 60 cab models
– 100+ legendary pedal models
– Next-gen mic position and microphone type simulations
– User custom IR loader with 3rd party IR support
Specifications
Digital Audio Signal Processing: 24-bit depth, 44.1kHz sample rate
SNR: 120dB
Effects: 242
Effects Modules: Total of 9 simultaneous
Patches: 198 (99 user patches, 99 factory patches)
Looper Time: Mono 100 seconds, Stereo 50 seconds
Internal Drum Machine: 100 Rhythm Patterns
Inputs:
 One 1/4" Tip Sleeve (TS) Instrument jack, with three way input mode selection
 One 1/8" Stereo Auxiliary In (Aux In) jack
 One 1/4" Tip Ring Sleeve (TRS) Expression Pedal input jack
 One Standard 5 pin MIDI input jack
Outputs:
 Two 1/4" Tip Sleeve (TS) Unbalanced Stereo output jacks
 Two XLR Balanced stereo output jacks, with ground lift switch
 One 1/8" Stereo headphones output jack
Input resistance:
 Instrument Input: E.GT: 1M?; A.GT: 4.7M?; LINE: 10k?
 Aux In: 10k?
Output resistance:
 Unbalanced Output: 3.2k?
 Balanced Output: 3.2k?
 Headphones: 66?
Screen: 4" 800 x 480 Color Dynamic Display Touch Screen
USB Port: USB 2.0 Type-B port, supports USB Audio 2.0
Impulse Response/IR processing: Supports 24-bit/44.1kHz Mono WAV files, 1024 points
Power Requirements: 18V DC Center Negative
Current Consumption: 500mA Max
Dimensions: 320mm (L) x 147mm (W) x 46mm (H)
Weight: 1408g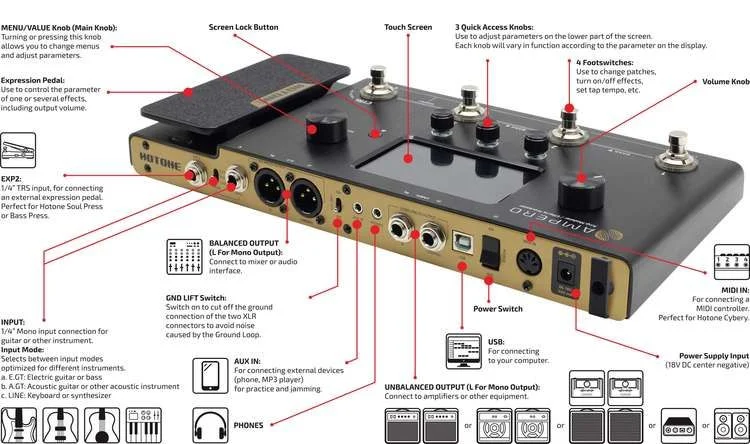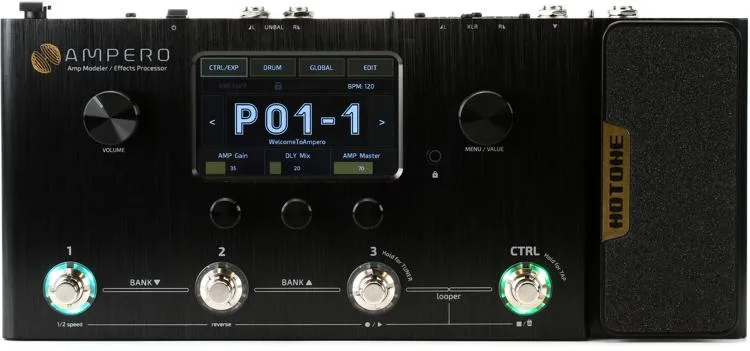 Overall
For the home studio musician who wants to record the Hotone Ampero is kind of like a mini-Kemper in many ways.  Running it directly to the audio interface will give you some really great results.  You can set up a stereo delay and have it pan between the speakers for example.  There are a million different amps and effects to choose from so there should be something in there for everyone.  For me, there's maybe a little too much going on but I can see this being aimed at someone who wants to record albums.  The Hotone Ampero will work great for Electric Guitar, Acoustic Guitar, and also Bass. Find out more about the Hotone Ampero on Sweetwater or Thomann.
Hotone Ampero Beginners Guide
This video will help you get started with the Hotone Ampero. It will walk you through how to update the firmware and to get the most out of the Hotone Ampero.