My Fender Mustang GTX100 Amplifier Review
Fender has recently released its latest version of its digital modeling amplifiers called the Fender Mustang GTX. The Fender Mustang GTX comes in two different configurations. The first configuration is the GTX50 50-watt amplifier, and the second is the GTX100 100-watt version. Both versions of the amp feature a 12″ speaker and plenty of onboard effects. This review will answer all the frequently asked questions regarding this range of amplifiers. The main upgrades to the GTX line include an updated amplifier, speaker, and more cabinet models. These upgrades are being promoted by Fender as the "most powerful Mustang to date."
For the sake of transparency: Fender sent me this item to review for free. I am not paid in any other way for my opinion or public statements. My reviews are my own and have been that way since day 1. Fender, nor any brand have any input into my reviews both on YouTube and also on my websites. With the housekeeping done here, we go.
What is the Fender Mustang GTX100 amplifier?
The Fender Mustang GTX100 is an all-in-one amplifier. The amplifier combines different amps, pedals, and speaker cabinet emulation that can be configured however you like. All of the built-in effects and tones mean you can set out to find a sound of a classic amp, or you can make something different and unique. Unlike the Fender Tone Master amplifiers, the Mustang GTX offers a lot more built-in effects and parameters, giving the user more creative control over the sound. These effects and tonal flexibility doesn't mean it's better than the Tone Master; it's just very different.
Is the Fender Mustang GTX100 better than the Mustang GT-100?
The short answer is, YES! I much prefer what I hear out of the Mustang GTX100 over the Fender Mustang GT-100. One of many flaws of the previous GT amplifiers was the sound always seemed very distant. The Mustang GT-100 and GT-200 sounded like the speaker was in backward or it was out of phase. It really lacked a distinct 3D sound that was very evident on the Mustang V2 amplifiers.
I can tell you that the new Fender Mustang GTX100 has the 3D sound in spades. It's by far the best Fender Mustang since the V2 era. This should be reason enough to upgrade if you've been on the fence about it. Don't judge the new Fender Mustang GTX100 by the stock presets either. Make your own right away, and you will get some great sounds out of it. This one of the huge issues with a lot of YouTube reviews is they have no idea what the potential of these amps actually is or are too lazy to make their own patches.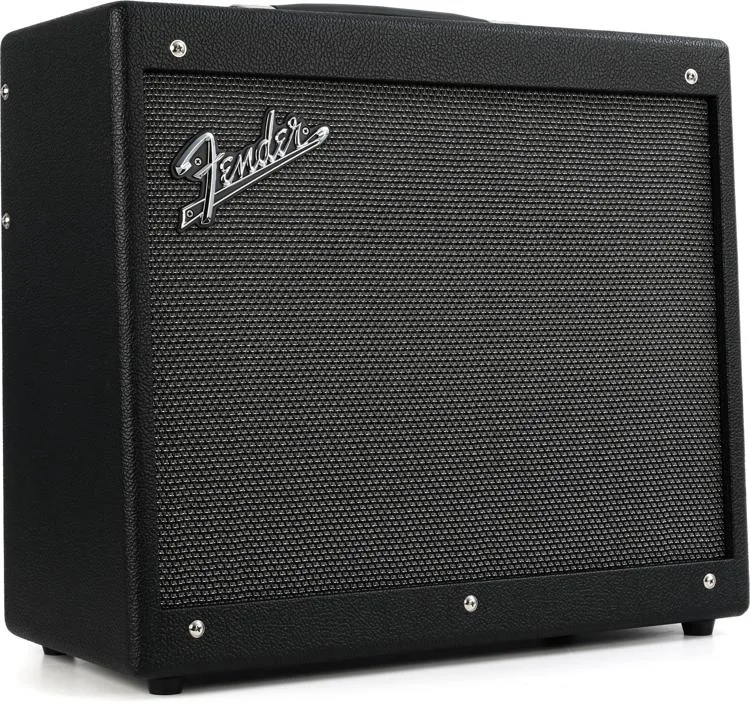 My History with the Mustang Amplifiers
I was a huge advocate for the Fender Mustang V2 amplifiers. To this day, I haven't heard a digital modeling amplifier I like more than the V2's. Fender really nailed it with that series of amplifiers, and I also made some custom patches that were downloaded almost 500,000 times globally. The older amplifiers could accurately replicate the amps they set out to copy. Not only that, but I also used to use mine for live performances in my band and jam nights. If you still have a Mustang V2, I have made an archive of the Fender Fuse software and patches on this website.
Who The Mustang GTX Amplifier is for
Someone who wants the flexibility of having a lot of effects and tones at their disposal
A guitarist who might wish to a very competent practice amplifier
Anyone wanting a light-weight alternative to a tube/valve amplifier
A somewhat cost-effective way of getting into the digital modeling amplifier space
Someone who doesn't want or need loads of external effects on the floor
Features and Specifications (updated)
Type:

Solid State with Modeling

Number of Channels:

Single Channel

Total Power:

100W

Speaker Size:

1 x 12″ Celestion G12FSD-100

Reverb:

Yes

Effects:

Overdrive, Fuzz, Delay

Amp Modeling:

40 x Amp Models

EQ:

3-band EQ

Inputs:

1 x 1/4″ (instrument), 1 x 1/8″ (aux in)

Outputs:

2 x XLR (line out)

Effects Loop:

Stereo L/R Loop

USB:

1 x Type Mini-B

Footswitch I/O:

1 x 1/4″

Footswitch Included:

Yes, 7-button

Features:

Onboard WiFi

Computer Connectivity:

USB

Software:

Fender Tone 3.0 App

Power Source:

Standard IEC AC cable

Height:

18″

Width:

21″

Depth:

10."

Weight:

22 lbs.

Manufacturer Part Number:

2310700000
The New Fender Mustang GTX Look
I am a massive fan of the new design and look of the Mustang GTX. The Fender Mustang V2 line of amplifiers looked like a regular amplifier from the front while the GT looked like a Bluetooth speaker (in my opinion). Going back to a stage amplifier aesthetic is a really great move on Fenders' behalf!
Does it sound like the amps it's Modelling?
The Fender Mustang GTX amplifiers really nail a lot of the amps they are modeling. What this amplifier does best is sound like the 1×12 amplifiers it's cloning. For example, a Fender Super-Reverb has 4×10″ speakers, and the Mustang only has a single 12″ speaker. For this reason, it will never nail that sound as good as a Princeton or Deluxe Reverb. The single 12″ speaker throws a lot of wind!
My Full Video Review of the Mustang GTX 100 Guitar Amplifier
Is the Sound Fixed from the Mustang GT-100 or GT-200
One of the first things I noticed was how much more "3D" the new Mustang GTX sounded in the room. The previous GT amplifiers always seemed a little distant. My best description of this was it sounded like a Hi-Fi speaker versus that of a real amp. This new speaker, in combination with the presets, is much better to my ear. Many of the sounds have a 3D note attack that was sorely missing from the prior generation.
Fender actually states in their promotional material that the Fender GTX speaker is voiced as a guitar speaker first and foremost instead of a hi-fi speaker. This explains the odd tones that were produced with the prior Mustang GT amplifiers. If you read my previous Mustang GT-200 review, you'll know I wasn't a huge fan.
Is the Fender Mustang GTX Loud Enough to Gig with?
With the master volume at noon, the Mustang GTX100 is very loud! Whether or not it's loud enough to gig within a really loud band is yet to be seen. I have no hesitations in saying this amplifier will be loud enough for most smaller/mid-sized gigs and rehearsals.
For larger shows, you can absolutely connect it to a PA system with the XLR outputs or by just using a microphone. For my taste, using a mic in front, the amplifier will always sound a lot more like it should.
Fender actually states in their promotional material that the speaker is voiced as a guitar speaker first and foremost instead of a hi-fi speaker.
Does the Mustang GTX sound good at low volumes?
Strangely enough, the Mustang GTX sounds better loud. Actually, most amplifiers sound better up loudly. I think this is a feel thing as the low-end response really starts to bloom on any amplifier up loudly. The Mustang can be used at lower volumes with some success, but to my ear, it sounds way better turned up. Can you get away with it as a practice amplifier? Absolutely!
Another cool included accessories on the Fender Mustang GTX is the headphone jack. This headphone jack will bypass the speaker and allow the player to not annoy anyone in silence!
Fender GTX or Boss Katana?
Trust your ears and trust your wallet. Whatever sounds best to you is the best choice. For home use, I might give the edge very slightly to the Katana thanks to the power attenuation. For folks who can crank it up a bit louder, I am going to give the edge to the Mustang. The LCD screen and phone app (not required) makes editing your tones a breeze.
The Mustang GTX also has a lot more internal effects that might appeal to some people and not to others. For home use, I can see this Fender Mustang GTX being a main-stay in my collection.
The Fender Mustang GXT Drive Tones are Fizzy
One of the comments I have seen come up on many YouTube videos is the fact the drive tones can sound fizzy, and the clean tones sound full. My rationale for this is that the Fender tones will always sound instantly better on a Fender amp. One of my favorite amplifier tones on the Mustang GXT 100 is the Marshall or 70's British tones. Initially, I was underwhelmed, as well. The good news is that through a little bit of menu diving, this can be changed entirely.
My Marshall preset is now one of the loudest presets on my amplifier, but initially, it didn't "pop" out of the amp. How I fixed this issues is as follows: There's a setting in each of the tube amp models called "Sag." Turn this Sag control to the left to "Less." This will make the amp much bigger, louder, and fatter with far less compression. This simple fix drastically changed many of the higher gain amplifier tones, including the Marshall, Orange, Mesa Boogie, Bassbreaker, and Super-Sonic presets.
Fender Tone Master Deluxe/Twin or Fender Mustang GTX?
My favorite amplifier from 2019 was the Fender Tone Master Twin. It's light, loud, and sounds incredible. You can read my full review of the Tone Master Twin or Deluxe Reverb if you want a detailed deep dive. The main differences are the Tone Master amplifiers do one thing really well: They sound like one amplifier. They don't have any other built-in effects like the Mustang. The Tone Master amplifiers are aimed at long-time tube amp fans who want the same experience but with no weight or tube issues. The Mustang has over 100 different effects and options, so you can make it sound like anything you like.
Because of this, they are aimed at two different audiences. If you like to use external pedals, I will go for the Tone Master series over the new Mustang GTX amplifiers. Both are great home/practice amplifiers, but the Tone Master series is better for a gigging musician who already has a pedalboard they love.
Fender Mustang GTX vs V2
As I mentioned earlier, this is the best Mustang since the V2. If you already have a tone, you love saved within the Mustang V2, and then there's probably no need to upgrade. There are a lot more options and tones within the Mustang GTX over the V2, so if that is something you are looking for, go for it. I am yet to directly compare these two amplifiers, but I can tell you the GTX feels really great to play. I'll do a follow-up video on YouTube regarding this comparison at some stage. The old V2 left the GT-100 for dead, but I don't think it would be that different from what I hear with this new GTX.
While the V2 works excellent in a live mix, I am yet to test this one out due to the venues in my area still being closed for health reasons as of writing this.
Final Thoughts
In my experience, this is the best Fender Mustang since the V2 amplifier. Furthermore, it offers a far better interface thanks to the Fender Tone App as well as providing some really great tones. I am yet to compare this directly to the V2, but it appears to have the 3D sound that was clearly lacking in the GT series of amplifiers.
The Fender Mustang GTX is perfect for rehearsals and jamming. Additionally, the GTX will be loud enough to do a lot of gigs with as well. While this amplifier will never convert hardcore tube amp snobs, it sure is fun and sounds great. The digital modeling amplifiers are fantastic for anyone who already knows what sort of sound they like as well as guitarists wanting to experiment with tone. If you are a seasoned professional hoping to capture the best tones on the planet, then this amplifier probably isn't right for you.
Best price on Sweetwater | Thomann Sky Music Australia